Mobli Mobilizes Your Life
---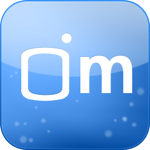 Mobli mobilizes your life... What does that mean? The mobile phone app, Mobli enables you to mobilize your life by allowing you to be almost anywhere in the world and it allows your life and experiences to be shared to almost anywhere in the world.
Mobli allows this via our smart phones (it is available for iPhone, Android, and Blackberry). It empowers us to engage with others that may be sharing similar experiences or have similar interests. It allows us to share our experiences with others by sharing photos and video taken right on our smart phones shared out to other Mobli users, the Mobli website, and if you choose, Twitter and Facebook as well.
Here is an example: The past few years we have been taking our show, Doctor Who: Podshock to the annual Gallifrey One convention in LA. Because so much is going on at once there, it is impossible to see and experience it all. Yet today, with the ubiquitous smart phone in almost everyone's hand capturing photos and videos and sharing them on the net instantaneously, we can see things posted by others which we would had missed ourselves even though we at the same event. Often days after the show had concluded, I would search the various social networking services for photos and videos of the event to see what I may had missed. What if you could see them all in real time as they were being shared at the event? This is where Mobli comes in. It doesn't have to be convention, it could be a concert, a sporting event, a fashion show, a news event, etc.
Of course Mobli is more than just that, but the above situation or rather one similar to it is what sparked the idea for the app in the first place. People now are connecting via shared interests or simply by forming relationships with other Mobli users all around the world.
Aren't there other apps already doing this now? Yes, though Mobli may offer you some advantages which may not be present elsewhere. It is no secret that I am big Instagram user. In a couple of weeks, it will mark my first year anniversary using it. In one week, it will mark the first year since the app made its debut in the Apple App Store. In that time, it has become the app that all other photo sharing apps are compared to now. Similar to how now any new social networking platform on the web is instantly compared to Facebook. There is room for different social networking platforms to fill the different needs of their user base. I am very active on Twitter, Google+, and still maintain a presence on Facebook. They are all different enough and excel in different areas to make them worthwhile using together. The same is true in the mobile space.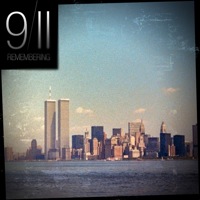 Let's get past some of the comparisons by highlighting some of the differences found in Mobli. In addition to photos, Mobli allows you to share video as well. You're not limited to 12, 15, or 20 seconds of video either, there isn't a limit (though keep in mind that when it comes to video, shorter is usually better in the mobile space). If you don't apply any filters or frames to your photos, then you are not limited to the 1:1 (square) aspect ratio for your images. Speaking of filters, Mobli allows you to layer filters and frames on top of each other (up to four) creating unique looks. I also believe that the image processing is done on the server side, not on the mobile device itself (I need to confirm that though). Mobli also offers special filters that may be customized to a location, an event, or a holiday. For example, if you are shooting an image in NYC, there will be a special NYC filter available to you for that location. The same is true for LA. Earlier this month, there was a special filter you could use for shots documenting and memorializing the September 11th anniversary. I bet there will be something special for Halloween next month.
Mobli uses channels which you can tag your media to and it allows others with an interest in that channel's subject to discover the experiences you are sharing. You can follow a channel just as you would follow another Mobli user (Mobli uses asymmetrical following, in other words, similar to Twitter, you can follow (or watch) a person and that person may or may not follow (or watch) you as well).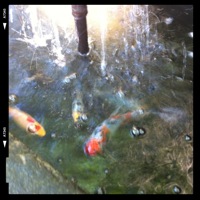 The power of social networking is harnessed in Mobli by allowing you to comment on photos and video posting, but you are not limited to just commenting in text, you can reply with a photo of your own or a video.
You can also search via location. You can find others nearby you who are sharing their experiences via photos and video very easily in the app or jump to certain locations like NYC for example. Mobli also allows you to upload your media that you may taken with another app and it will grab the location data from the metadata of that image (if it is available) and allow you to choose that location for the image. This I find to be very useful. There have been numerous occasions when I am at a location shooting images but I was too busy at the actual event to post them from the event. If you post them afterwards, Mobli will grab the correct location data stored in the photo itself (if it was saved there) instead of the location you happen to be at when uploading them.
Of course Mobli respects your privacy as well, so you have the option of easily turning off location on your postings if you wish.
Another interesting feature Mobli has is its live feed. You can see what other Mobli users are posting live at any given time. It is a great tool for discovering people and photos that you may not have otherwise seen.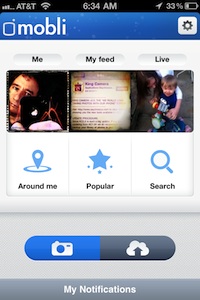 Favorites is another feature that Mobli provides. It allows you to tag visual media you find as favorites which you can then access whenever you like.
Mobli is multi-platform and has its own website which has your profile and shared content. You can access Mobli as you would from the app on the site. You can also use the Mobli app on your smart phone as a remote control to view content on the website. How neat is that?
Currently sharing out to other social networks is limited to Twitter and Facebook. I hope to see Tumblr and other options made available at some time (i.e. Flickr).
There is no way to reply directly to someone who had left a comment. You can respond in the comment thread, and everyone in that comment thread (those who may had also left comments) will receive a notification that there is a new message. It is similar to Google+ and Facebook in that respect, perhaps tagging other users in comments might be something Mobli might consider in the future. It certainly hasn't been a deal breaker though thus far for me. On the other hand, Mobli allows you to share content you discovered with specific Mobli users.
In the short period of time and limited use I have had with Mobli so far, I found my experience with the app and the community to be a positive one. Speaking of community, there is a strong enthusiastic one on Mobli. Almost immediately upon signing up I was greeted with warm welcomes and discovered friendly people using the service and sharing their experiences with others on it. Many are having fun recording videos and creating memes and challenges to share via the service.
The app is easy to understand and navigate. Mobli is still in beta but is open to all iPhone users (Android and Blackberry users may need to request an invite as it may still be a closed beta for these platforms at this time). Of course it is a free app and service with no advertising in the app or website.
Also available for Android and Blackberry
You can find my Mobli profile here: mobli.com/louistrapani
Visit the Mobli website.
Also see Robert Scoble's video interview with Boaz Hecht, Vice President of Business Development at Mobli — Mobli: leveraging the power of smart phones in social media.